A woman who refused to stay at home
"Being a woman, studying, working and being a human rights defender in Afghanistan male dominated society is not easy at all."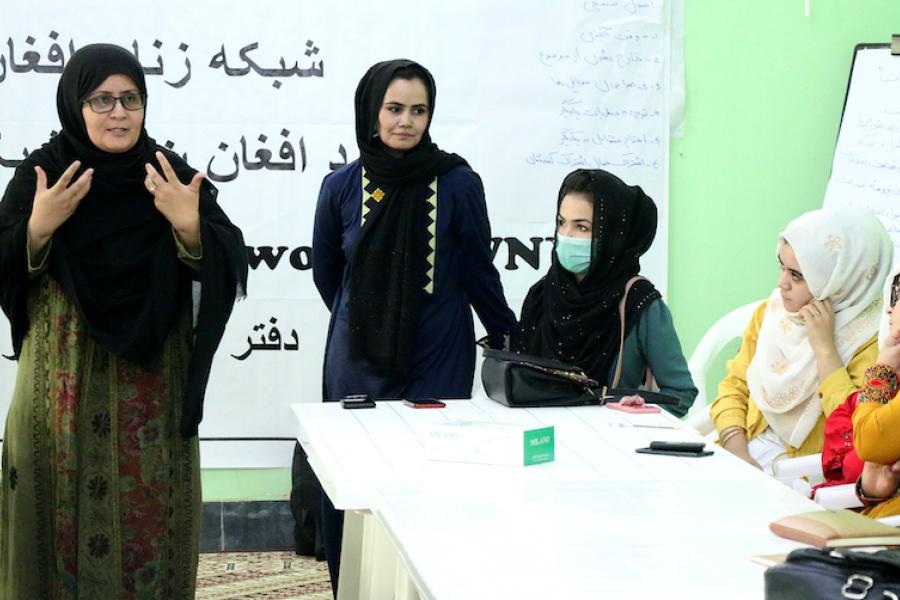 Marzia Rustami studied Sharia Law at Salaam University in Kunduz, she is now leading northeastern branch of Afghan Women Network (AWN), she is a deputy of Kunduz Civil Society Integrated Network and a member of Kunduz City Municipality Advisory Board.
She started her career as a teacher in a school in Kunduz. During that time, 15 years ago, not many women were educated and worked outside the home, so soon she found herself doing a lot of social work while also enrolling into university.
She reflects, "I felt I could do more working with civil society than remaining in school". With higher education and more exposure, Marzia's self-confidence increased. She has learnt skills that allowed her to design and propose activities that could bring a real change to women in Kunduz Province.
As the AWN regional manager, she has three main roles - advocacy, networking and capacity building. AWN's long-term goal is to empower women so they can be self-sufficient, exercise their rights and be able to defend themselves against violence at homes, workplace and in communities.
One of the ways to reach this goal is through providing legal and physiological counselling for the violence against women survivors. At AWN, these women are referred to the line departments, and they are followed through legal processes till the violence perpetrators are brought to justice.
During the COVID-19 pandemic lack of access to information and diagnostic possibilities was critical in Kunduz. The governmental administrations and healthcare service providers couldn't cope, and many civil society and human rights defender organizations stepped in to help with prevention and control of the epidemic.
"In several meetings with the local authorities we brought pressure on them to have more public awareness, to support the poor families during the lockdown and to lobby the central government to establish COVID-19 testing laboratory in the province. Personally, with a group of friends, I established a women and youth volunteers' network to give people information on how to protect themselves, distributed facemasks, sanitizers and food to the destitute families."
Marzia's own words
"Good and religious women and girls should stay at home or work as teachers," that is what I used to hear from people around. I have been both, good and religious, and was able to help scores of women by not staying at home.
Being a woman, studying, working and being a human rights defender in Afghanistan male dominated society is not easy at all. My family always stands behind me, my parents, brothers, and sisters. They understand that what I'm doing is bigger and more important than anybody's sarcastic comments.
Security risks and threats by human rights violators have been the price I keep paying for refusing to keep silent about the ugly face of our society. So far, with God's help, I am still here, doing what I believe is the right thing to do and standing for those who nobody else would listen to.
Many committed colleagues and ordinary citizens have supported me. I have been ever so grateful for the people God puts in my way.  
UN entities involved in this initiative
UNAMA
United Nations Assistance Mission in Afghanistan
Goals we are supporting through this initiative