5 November 2020 - 25 November 2020
'Dedgah Zan' Photo Competition 2020
During this time of COVID-19, lockdowns and increased domestic violence, how does an Afghan woman view herself? How does she want to be seen? And how does she want to be treated?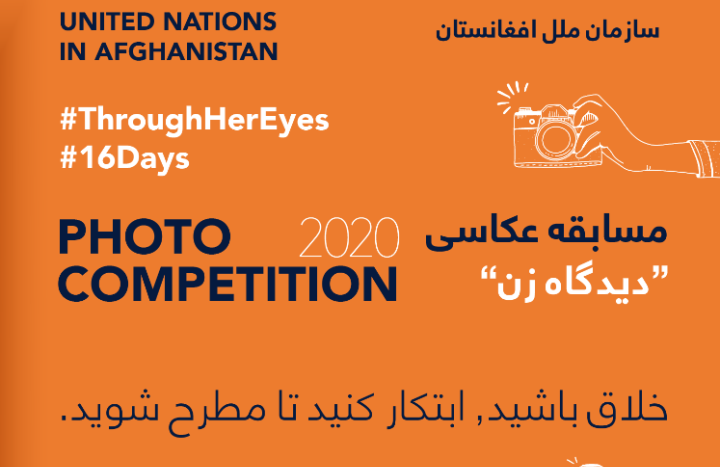 UN entities involved in this initiative
FAO, IOM, OCHA, UN Women, UN-Habitat, UNAMA, UNDP, UNEP, UNESCO, UNFPA, UNHCR, UNICEF, UNMAS, UNODC, UNOPS, WFP, WHO
Sustainable Development Goals
No Poverty
Zero Hunger
Good Health and Well-being
Quality Education
Reduced Inequalities
Peace, Justice and Strong Institutions
Partnerships for the Goals
Contact information
Communications.af@undp.org
Location
Kabul
Jalalabad Road PD 9 - UNOCA Compound
Afghanistan
5 November 2020 - 25 November 2020
About the initiative
United Nations in Afghanistan is announcing the 2020 photo contest on the theme of 'Dedgah Zan' or 'Through Her Eyes' to narrate the positive, vibrant and colorful stories of women and girls during this darkly challenging time. Photos may speak of family and domesticity, of work, of friendships, of leisure or a variety of different scenarios. They might include:
a female doctor or nurse who attends to her COVID-19 patients;
women taking part in sports or outdoor activity to keep healthy during the pandemic;
a woman cooking with her husband;
a woman driving, cycling, playing sports;
a young girl broadening her horizons through a book during quarantine or self-isolation;
…and many other examples.
The competition is open to Afghan male and female photographers. The winning photographer will be showcased through UN social media channels and published on all online platforms, including printed materials.
Winners will be notified individually in early December. The UN will announce them on the homepage of UNDP's website early December 2020.
How to Enter
Email your photo(s) to communications.af@undp.org between 05 November and 25 November 2020. 
The Entries should include the following information:
First and last name of photographer
Phone number
Alternative phone number
Province
Occupation
Caption/Story
Date and location of photo taken
Copy of passport or National ID.
A statement acknowledging receipt and acceptance of the Submission Rules
A statement to bear responsibility for the consent of children and adults featured in the images to be used on public.
Prizes
Judges will select the top three contest winners, ten best photographs and an additional 10 photographs for the exhibition, based on how well they depict the theme through their creative photography.
1st place prize: $500
2nd place prize: $300
3rd place prize: $200
Ten best photographs: $100
The cash prizes will be handed over during the award ceremony in December 2020.
Photo Criteria
Photo(s):
Must be taken in 2020.
Not featured in previous publications, promotional materials, or on any websites.
Should not be smaller than 1600 x 1200 pixels, be JPEG format.
Should include a caption/story between 50-200 words.
The captions should answer what, where, when, how and why.
Captions must be either in English, Farsi or Pashto.
Are accepted in either color, or black and white.
Manipulation will disqualify the entry.
Contest Rules
The photographs should depict the respective theme "Dedgah Zan", using a high degree of attention to clarity, creativity, and originality.
By submitting an entry to the photo competition, the photographer will agree to these Rules:
Afghan nationals, both men and women, +16 are eligible to apply. Woman photographers are highly encouraged to apply.
Photographers can submit up to 5 photo entries
Each entry does not contain any infringing, threatening, false, misleading, abusive, harassing, libelous-, defamatory, vulgar, obscene, scandalous content
The photographer must hold all rights to the photograph submitted and they must bear full responsibility for obtaining the consent of children and adults featured in the images
The photographer bears full responsibility for the accuracy of the entry's content – photo and the accompanying caption/story
Caption/story must be written by the photographer, and should be real, not fiction, and not be any form of copy/reproduction
The UN in Afghanistan will have the full right to publish a Flickr album and use entries for non-commercial products, with mention of the photo credit
United Nations in Afghanistan retains full ownership of the copyright in each Entry