Story
Parwana's journey to recovery from severe acute malnutrition.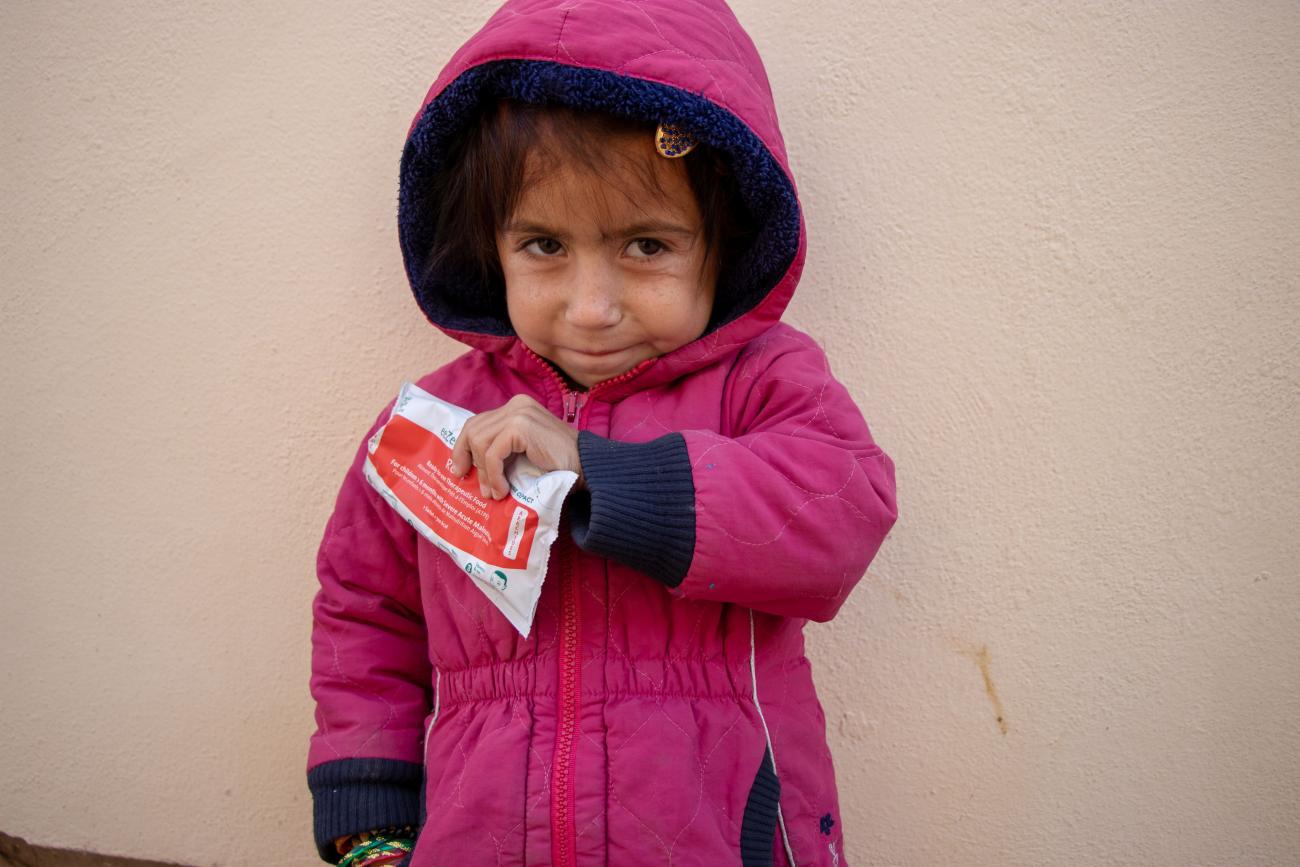 Between August and November this year, UNICEF helped to treat an estimated 121,000 children under-five suffering from severe acute malnutrition.
Malika rolls up her 4-year-old daughter's sleeve revealing an alarmingly thin arm. Little Parwana came with her mother to the UNICEF-supported health facility at the nick of time. She has little energy, her skin is dry and wrinkled and her cheeks are hollow. She weighs just 9 kgs, while she should be twice that weight at her age and height.
As the nutrition counsellor wraps the Mid-Upper Arm Circumference (MUAC) strip around Parwana's thin arm - MUAC a simple measurement that allows health workers to quickly determine if a child is acutely malnourished - the diagnosis is confirmed: severe acute malnutrition.
Across Afghanistan, an estimated 3.2 million children under the age of five are expected to suffer from acute malnutrition this coming year. And UNICEF warns that without urgent action, over 1 million children under the age of 5 are at risk of dying from severe acute malnutrition.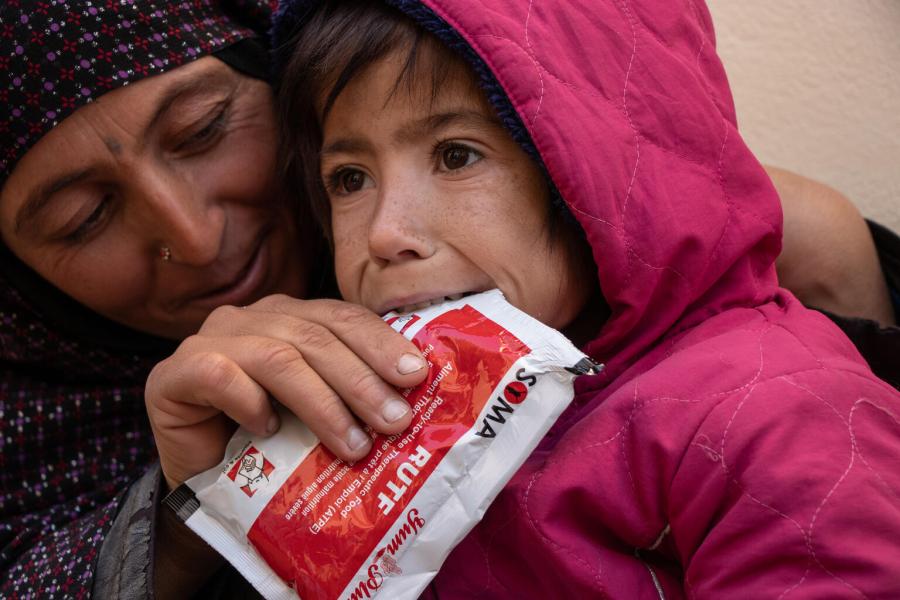 As soon as the nutrition counsellor diagnoses Parwana with severe acute malnutrition, her mother goes to the pharmacy to collect 28 sachets of Ready to Use Therapeutic Food (RUTF), a fortified peanut paste that helps children recover from malnutrition. UNICEF, the sole provider of RUTF in Afghanistan, has been sending hundreds of thousands lifesaving RUTF sachets all over the country.
According to UNICEF's tracking data, the number of children treated for severe acute malnutrition increased from about 30,000 children in October to 54,000 children in November.
Even though children like Parwana are now in treatment, the situation is dire for millions who are at risk as families go hungry. After a dry winter, a weak harvest and drought, almost half of the people in Afghanistan do not have enough food to eat. Many don't know where their next meal is coming from.
Parwana's mother says that since her husband lost his job, the family has struggled financially. He used to buy chickens from farms and sell them in the market, but some days there are no customers – and no money. On those days, a glass of hot tea and bread is the only sustenance the family has. As a result of prolonged hunger, Parwana's stomach hurts. She winces and cries when she tries to eat, her mother tells us.
The impact of eating the nutritious peanut paste is almost immediate. Energized by her nourishing RUTF and feeling a little stronger, Parwana begins to interact with people around her.  Lifting her head, she gently smiles and squeezes the finger of a UNICEF staff-member at the clinic.
The nutrition counsellor asks Malika to return to the clinic with her daughter in seven days' time for more tests and more peanut paste. This cycle will continue until Parwaneh is healthy.
Two weeks later, as Parwana comes in for another check-up, she is visibly healthier. Her cheeks are rosier, and she has moved up one centimeter in the Mid-Upper Arm Circumference test and gained a kilogram in weight. She leaves the clinic with another armful of the nourishing peanut paste.
As well as distributing the life-saving RUTF sachets, UNICEF is also doubling the number of nutrition counsellors and mobile health and nutrition teams so that children in the most remote areas can be tested and treated. UNICEF is also providing supplies and funding at 1,400 nutrition sites across the country, where we will support more nurses and health workers to identify and treat children quickly. UNICEF plans to expand these services further in 2022. 
UN entities involved in this initiative
UNICEF
United Nations Children's Fund