The UN Resident Coordinator's Office in Afghanistan
As a designated representative of the UN Secretary-General in Afghanistan, the UN Resident Coordinator and Humanitarian Coordinator in Afghanistan guides the UN's engagement in humanitarian and development activities in the country.
The UN Resident Coordinator and Humanitarian Coordinator's responsibilities include ensuring the coordination of the UN's humanitarian action and development activities, creating a platform of coordinated delivery, promoting the enhancement of national capacities, and ensuring effective advocacy of UN values, standards, principles and activities on behalf of the UN with the highest level of Government.
The UN Resident Coordinator for Afghanistan
Before joining as the UN Deputy Special Representative, Resident and Humanitarian Coordinator for Afghanistan, Dr. Ramiz Alakbarov had worked for UNFPA HQ, most recently serving as Assistant Secretary-General and Deputy Executive Director (Management) ad interim since 15 February 2020.
Dr. Alakbarov has 25 years of service in the United Nations, including as the UNFPA Director of the Policy and Strategy Division, UNFPA's representative on the UN System High-Level Committee on Programmes, and on the InterAgency Standing Committee on Humanitarian Affairs. He has actively contributed to the ongoing UN Reform process.  Dr. Alakbarov has also served in various positions in the Middle East, Africa, Central Asia and the Caribbean, including in development, humanitarian and integrated peacekeeping missions settings.
Dr. Alakbarov is a national of Azerbaijan. He holds MD and PhD degrees in internal medicine from the Azerbaijan Medical University and an MA in International Relations from the Fletcher School of Law and Diplomacy in Boston. Dr. Alakbarov is fluent in Azeri, English, French and Russian. He has published over 30 works on medicine, public health and humanitarian response.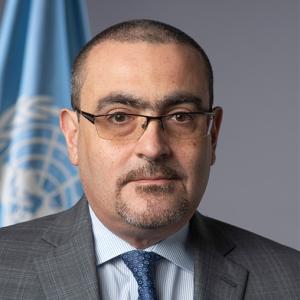 Dr. Ramiz Alakbarov
Deputy Special Representative of the Secretary-​General Resident and Humanitarian Coordinator