The UN Resident Coordinator's Office in Afghanistan
As a designated representative of the UN Secretary-General in Afghanistan, the UN Resident Coordinator and Humanitarian Coordinator in Afghanistan guides the UN's engagement in humanitarian and development activities in the country.
The UN Resident Coordinator and Humanitarian Coordinator's responsibilities include ensuring the coordination of the UN's humanitarian action and development activities, creating a platform of coordinated delivery, promoting the enhancement of national capacities, and ensuring effective advocacy of UN values, standards, principles and activities on behalf of the UN with the highest level of Government.
The UN Resident Coordinator for Afghanistan
Mr. Daniel Peter Endres, a Swiss national, has appointed as the Deputy Special Representative, Resident and Humanitarian Coordinator ad interim for Afghanistan.
Mr. Endres has an extensive career spanning over 32 years with the United Nations. In the past, he has served as the Regional Humanitarian Coordinator for East Africa, and also served as the UNHCR representative in Iraq.
Mr. Endres has held several senior positions at UNHCR, including Director of External Relations in the headquarter, Director of International Protection, and Director of the Comprehensive Refugee Response Framework based in Geneva. He also served as the Deputy Representative of UNHCR in Kabul from 2001 to 2005, which gives him a unique perspective and a deep understanding of the context in Afghanistan.
Mr. Endres is fluent in English and French, in addition to his native German. He holds degrees in political science and law from the University of Munich, Germany.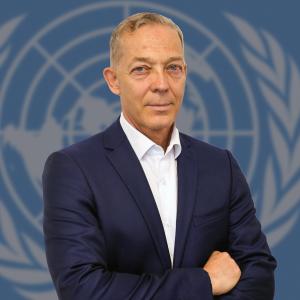 Daniel Peter Endres
Deputy Special Representative of the Secretary-​General Resident and Humanitarian Coordinator ad interim (a.i.)