A demining lady who saves lives
"Demining is not only my field of work, but it is also part of my life. Saving children from the threats of mines gives me the greatest sense of humanity"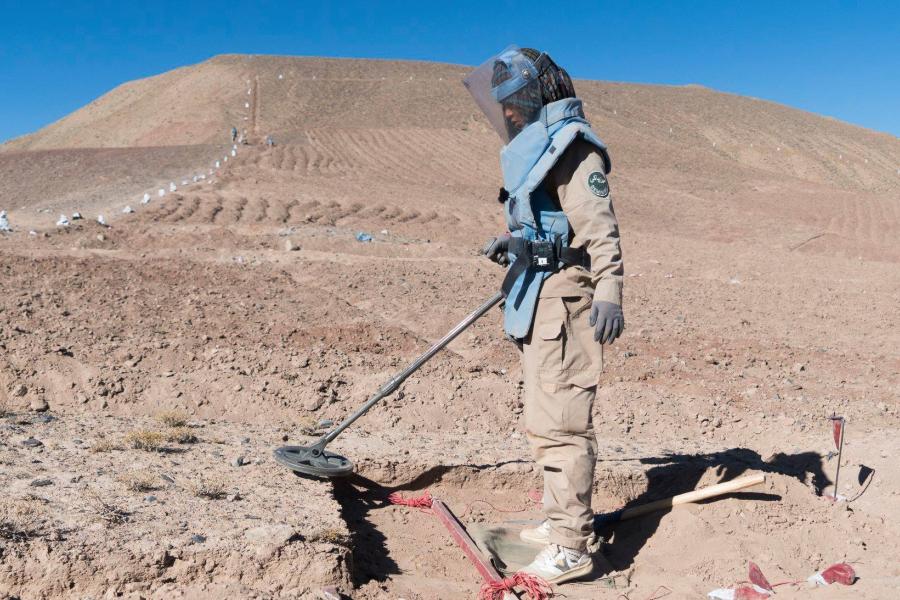 Photo | UNMAS Afghanistan
Fezeh Rezaye is a 26-year-old woman.  The mother of two children, she lives in Bamyan, Afghanistan, an economically poor province but rich in history. Fezeh is among 19 female deminers who made Bamyan the first mine-free province in Afghanistan.
"Working as deminer is not easy, especially for a woman" she notes. "I worked in minefields, on the top mountains from morning till late afternoon." Fezeh wanted to be a teacher, but a tragic incident changed her life.
Fezeh still remembers the death of seven children in a mine explosion incident at their village. They belonged to one family. This tragic incident pushed Fezeh to change her mind from being a teacher and instead, she decided to save people's lives.
"After getting some training, I started my work as a deminer." She recalls, "In the beginning, some of my family members and relatives disagreed with my work.  They thought demining is a male-dominated and dangerous field for me."
Fezeh believes that one's field of work is not defined by one's gender. Instead, it is about ambitions. She is trying to prove it to all communities that women have the abilities and rights to work as men. Her family, including her husband, is proud of her.
After the declaration of Bamyan as the first mine-free province in Afghanistan in 2019, the female demining team of Afghanistan received the Arms Control Person International Award from the Arms Control Association in the United States. They were voted second, out of ten nominees from around the world.
FEZEH'S OWN WORDS
My name is Fezeh Rezaye. I am 26 years old. I was born in Bamyan and have finished my education in the field of sociology in Bamyan University. When I was a student in tenth grade, I was forced by my family to marry one of our relatives. I had no choice except to accept the marriage. I wanted to marry an educated person. However, the boy I was going to marry had not finished school. I proposed one condition to my family for marrying that boy. I said " I accept this marriage if the boy continues his education and I can fulfil my dreams". Fortunately, they all agreed. Shortly, we got engaged and my fiancé began his education. Later we got married. My husband and I studied very hard. At the same time, I started teaching literacy to rural women because we needed money to follow our education and manage our life.
Now, my husband is doing his master's in the field of Mines and Geology at the Kabul Polytechnical University. I finished my bachelor in sociology. It was my first achievement in my life to be able to get my husband to study. However, we also have two children – two beautiful daughters. One is eight, and the other is four . My eldest daughter is now in second grade.
I planned to be a teacher, and I started with teaching literacy to the rural women in the countryside of Bamyan. But one tragic incident pushed me back from teaching. A single mine explosion incident killed seven children from one family in our village. I thought about how it could have happened to my children as well, so I stopped teaching and went for demining. My family and friends disagreed with me, and they were scared. Even my children. They would ask me why I have chosen a male-dominated and dangerous job. I used to say that for the sake of my future and my children, I want Bamyan to be free from mines so that everyone can study and enjoy life.
After I got training, I started practical work in demining. It was not comfortable working from morning till late afternoon on minefields. Over time, we succeeded. We were 19 female deminers in the first female demining team in Afghanistan, and we made Bamyan free from mines. I think it is the highest honour of my life. Our family and community are proud of us. Last year, our team, the first female deminers of Afghanistan, made history and won a significant international award. We have proven that women can work hard as men, and that we are all equal. Now, I am looking forward to a brighter future. My husband is coming back home with his master's degree very soon, and we both will start our dreamed life.
UN entities involved in this initiative
UNMAS
United Nations Mine Action Service
Goals we are supporting through this initiative