Story
As Afghans dig out from deadly quakes, a difficult winter looms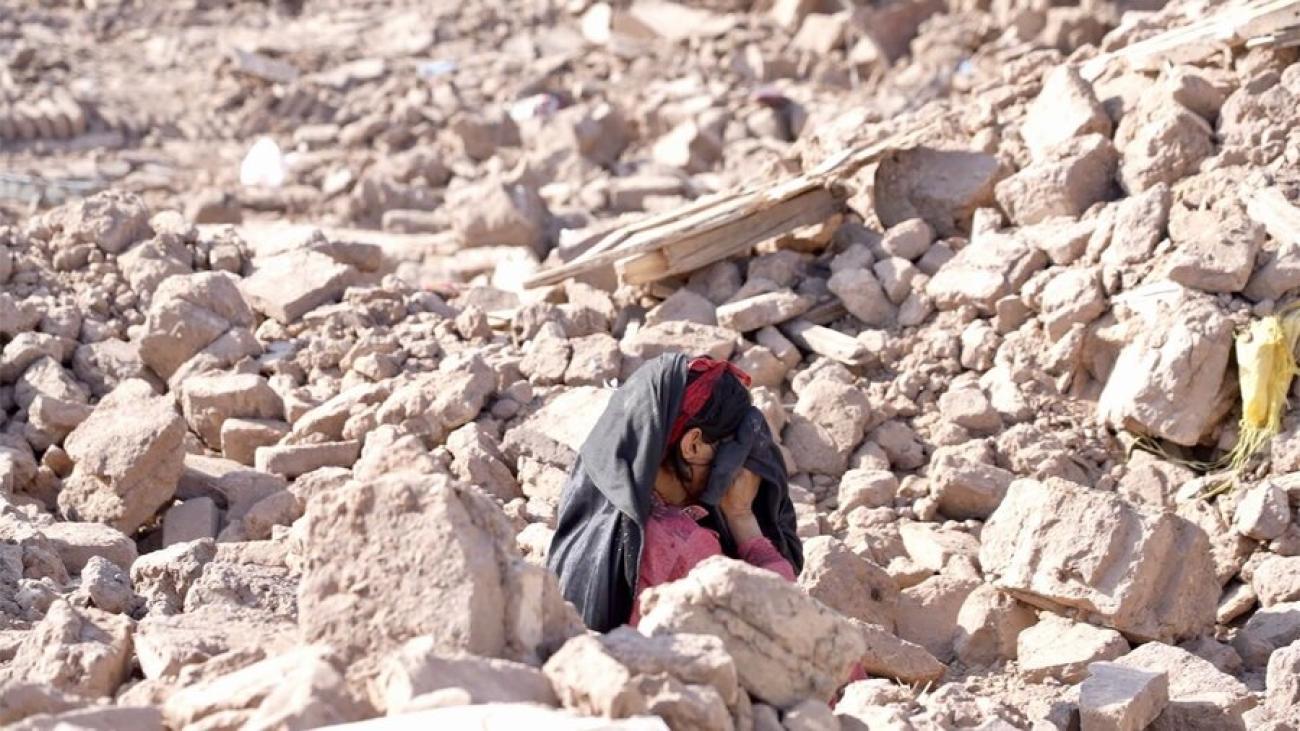 Earthquake in Afghanistan
A woman sobs into her dark shawl, her body nestled amid the rubble of Afghanistan's earthquake-hit village of Naib-Rafi. Nearby, a man digs through the rocky debris, hoping to salvage precious grain.
"As you see, everything we own is buried," says grandmother Ziba, whose daughter was killed in the quakes that hit Afghanistan this past week. "We can't dig it out. We can't even stand on our own two feet."
The powerful earthquakes that struck Afghanistan's western Herat province, killing and wounding at least 1,400 people and flattening whole villages, have added to a mountain of hardship facing residents of this impoverished country - as a potentially deadly winter looms.
"These are communities that are already barely able to feed themselves, and every one of these crises pounds them back into utter destitution," says World Food Programme (WFP) Afghanistan spokesman Philippe Kropf, who went to affected villages after the first earthquakes struck.
"This comes on the back of nearly 40 years of near uninterrupted conflict," Kropf adds, "of high levels of food insecurity, of five years of drought or drought-like conditions — and an economic downturn two years ago that has destroyed livelihoods and jobs."
WFP has already reached nearly 34,000 earthquake survivors like Ziba with emergency food assistance, which began distributing within hours after the first quakes struck.
"These earthquakes come at a time when 15 million people - one-third of Afghanistan's population - do not know where their next meal will come from," Kropf says. "And yet WFP was forced to cut 10 million people from food assistance this year, due to a massive funding shortfall."
In the bare tent that she now calls home, grandmother Ziba recalls rushing home after the first earthquake hit. She was lucky enough to be outside.
"I saw my daughters beneath the collapsed walls of the home," she says. One had a broken leg. The other was dead, leaving her children in their grandmother's care.
"I was awake all night with the baby," Ziba says of the youngest, who was crying for lack of milk.
"Lost everything"
The earthquakes mostly killed women and children, humanitarian agencies say. They also killed many livestock, delivering a further blow to communities scratching out a living on subsistence farming and herding.
Visiting earthquake-hit villages, WFP staff saw lines of freshly dug graves. A distraught young man showed them the rubble of his home. Seven family members died in the quake, he said.
A shepherd sat near a pile of rubble, two of his sheep buried in it. He had lost all his livestock, he said, but he had neither the time to mourn those losses nor get a tent to live in. He was too busy digging up dead family members, and bringing injured ones to hospital.
WFP's emergency rations offer some solace. They include fortified biscuits, along with fortified wheat flour, vegetable oil, yellow split peas and salt.
If funding comes through, WFP aims to continue the food distributions for several months — enough to tide the most destitute families through Afghanistan's punishing winter.
Fresh funds will also allow WFP to roll out longer-term resilience building programmes, expected to reach another 100,000 people over the next seven months. The initiatives, which can include building irrigation canals or offering training on creating kitchen gardens, give cash to participating communities and help quake-affected people get back on their feet.
Without more funding, however, some quake survivors may not last the winter. "It will be very, very difficult for them," Kropf says. "They have lost everything."
The most optimistic are living on hope.
"We will rebuild our home again," grandmother Ziba says, "if no-one helps us, we will build it on our own."
This article was first published by the World Food Programme. For more information about the UN's work in Afghanistan, visit afghanistan.un.org
UN entities involved in this initiative